Melozzo and the Renaissance
Melozzo da Forlì and the 16th century ideal of beauty.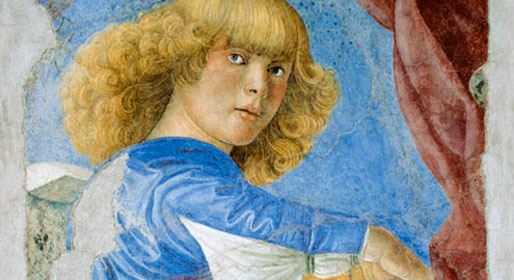 Until June 12th 2011, Forli pays homage to Melozzo, the city's most famous artist, with an exhibition which, for the first time ever, gathers all of the painter's "movable" works together in a single venue. "Merlozzo da Forli. Human beauty between Piero della Francesca and Raphael" is on display in the San Domenico Museum and includes the extraordinary cycle of frescoes realized by the artist for the apse of Rome's Santi Apostoli church.

Born in 1438, Melozzo degli Ambrogi soon left his home town for Padua and Urbino, where the Renaissance art scene was at its most vibrant. He then established himself in Rome. Here, during the pontificates of Pope Pius II and Sixtus IV, he became so famous that he was awarded the title of "Pictor Papalis".
The sublime nature of Melozzo's art is, perhaps, best seen in his representation of Absolute Beauty, a theme particularly dear to Renaissance artists, in the form of men and women, saints or humans, who, in their physical perfection were deemed to be the "shadow of god on the face of the earth". Melozzo's formal perfection is both mystical pleasure and consolation, and is a celebration of the divine.
The highlight of the exhibition is the detached fresco in which Melozzo depicted Pope Sixtus IV appointing the humanist Barolomeo Platina as Prefect of the Vatican Library. This is the first time that the artwork has left its "home" in the Vatican Museums.
The exhibition aims to trace the artistic career of Melozzo via the works of those artists with whom he came into contact, such as Andrea Mantegna, Bramante and Piero della Francesca, all of whom greatly influenced Melozzo's mathematical approach to perspective. Other significant works, include paintings by Fra Angelico and Domenico Ghirlandaio, who Melozzo met during his Roman period.
Finally, to underline the importance of Melozzo's contribution to the history of Italian art, the organizers have included a number of masterpieces by the masters he inspired. First and foremost amongst these is, the great Raphael. The director of the Vatican Museums, Antonio Paolucci recently declared that "without Melozzo, it would be difficult to explain Raphael".
Melozzo da Forlì. Human Beauty between Piero della Francesca and Raphael
San Domenico Museums
Piazza Guido da Montefeltro - Forlì
January 29th - June 12th 2011
Opening hours: from Tuesday to Friday 9.30 - 19.00. Saturday, Sunday and public holidays: 9.30 - 20.00