A plateful of Langhe
Scouting out the true taste of Piedmont.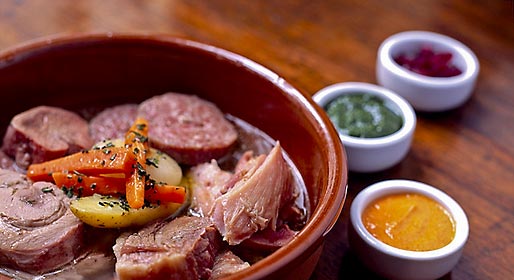 Langhe is the area of Piedmont between and including the cities of Alba, Mondovì and Acqui Terme. In this enchanting landscape of gently undulating hills, ancient castles, medieval villages and vast vineyards, some of the finest food and wine in the whole of Piedmont is produced, making Langhe the perfect destination for a gourmet getaway.
First things first
Tajarin and agnolotti del plin: what better way to start a meal in Langhe? Tajarin are long thin strips of fresh pasta, typically served in a rich mushroom, meat or "comodino" sauce. The curiously named "comodino" (bed side table in Italian) sauce is made using a mixture of vegetables cooked in lard and bathed in red wine.
Agnolotti "del plin" (small pasta parcels which take their name from the pinch required to seal them) are filled with various types of braised meat and vegetables.
You'll find both dishes on the menù at:
Trattoria della Posta: Località Sant'Anna 87, Monforte d'Alba Tel: +39 0173.78120

Great meat feasts
When it comes to 'secondi' in Langhe, Fassona Piemontese beef inevitably steals the show. The carnivorously-inclined will relish the protein-packed "battuta di carne cruda a coltello": slices of raw, hand-carved beef, seasoned with just a little salt, a drizzle of extra virgin olive oil and a few flakes of truffle.
Meat packs even more punch in the "Gran Bollito Misto". Wonderfully rich yet incredibly simple, this recipe, typical of the town of Carrù, puts together 7 cuts of different meat, 7 types of offal, 7 sauces (or 'bagnet'), and 7 side dishes to create one of the most flavorsome meals you're ever likely to eat.
Two great eateries in which to savor the Gran Bollito Misto:
Ristorante Moderno Via della Misericordia 12, Carrù (CN) - Tel: +39 0173 75493
Osteria del Borgo Via Garibaldi, 19 Carrù (CN) - Tel: + 39 0173 759184

Say "cheese"!
Fresh and sweet, soft and ripe or hard and strong? However you like your cheese, if you're a dairy devotee, you'll want to head into Alta Langa, famous for not one, not two but three DOP cheeses: Robiola di Roccaverano, Murazzano and Castelmagno, each of which bears the name of the town in which they were first produced.
For a bite of the best, pop into one of the artisan dairies in each cheese's town of origin.
Castelmagno migliore is made some 1600m above sea level, where the pastures rich in herbs and flowers give the milk of the cows which graze them a quite unique taste and aroma.
Our favorite place in which to chomp some chunks of Castelmagno
Dove osano le aquile - via Matteotti 4, Castelmagno

Quaffing in the castle
In Barolo, the town which gives its name to one of Italy's finest wines, travelers with a love for Bacchus's favorite tipple should be sure not to miss a tour of the WIMU (www.wimubarolo.it), the stunning wine museum housed within the walls of the Falleti Castle.
Among the experiences on offer, the weekend wine tastings, hosted by expert sommeliers and enologists, are an absolute must.