← Return to Abbazia San Pietro in Valle
Insider guides

Chiara Costanzi
(proprietario)
Wilde and untouched nature: we are inside the protected Park of Fiume Nera, which flows into the highest natural waterfall in Europe: the Marmora Falls.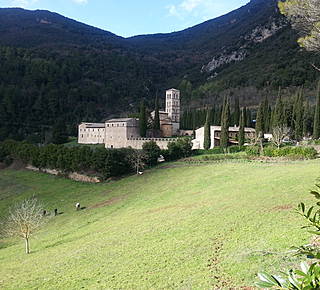 From the abbey to Umbriano
A wonderful path immersed in a thick wood starting from the abbey hotel with its medieval church to Umbriano, a medioeval small village without people inside it.
Tel. +390744780129
Places
Free climbing in Ferentillo - three km far from...
Ferentillo is a medioeval village far from the abbey but it's famous for a lot of sport activities such as: free climbing, trekking orienteering anc tree-climbing.
Activities
Centro Rafting "Le Marmore" far 15 km from the ...
The rafting centre "Le Marmore" provides a lot of sport activities such as: rafting, rafting soft (in Arrone), hysrospeed, kayak.
The hotel abbazia San Pietro in Valle (with its meeting roooms) work with the centre for team building.

Activities
Marmore Waterfalls - 15km from the hotel Abbazi...
The Marmore Waterfalls are the highest in Europe: 165 metres hight.
They are inside the natural park of the Nera river.
Activities
Church of the abbey San Pietro in Valle
Inside the historicaly country residence of the Abbazia San Pietro in Valle there is a benedectine church with frescoes before Giotto.
You could see it calling the guide : mobile number 328/6864226
Places
Hora Media restaurant of the Abbey's hotel
Local and special food is served in Hora Media restaurant inside the hotel Abbazia San Pietro in Valle: home made bread and pasta , truffels , dop olive oils.
Restaurants
Piediluco Lake - 15 km far from the abbazia S. ...
The Piediluco lake is a beautiful lake inside the natural Park of the Nera river. You could taste the local food that is delicious!
Places
mountain bike tours - Arrone- 7km far from the ...
The mountain bike's school in Arrone provides mountain bike tours starting from the hotel Abbazia san Pietro in Valle too.
Activities
Spoleto- far 17 km from the hotel abbazia San P...
Spoleto is a medioeval town with two Unesco sites: Basilica di San Salvatore and Tempietto sul Clitunno a Campello (dal 2011).
Places