Casa Artusi, living cookery museum
A center of gastronomic culture in Forlimpopoli.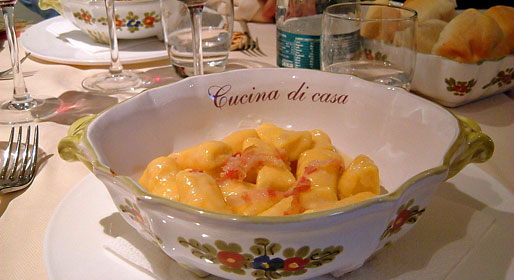 A museum which is also a restaurant, library and cooking school. This is Casa Artusi, a center of gastronomic culture in Forlimpopoli, dedicated to the art of Italian home cooking. This polifunctional space, located in the town's ancient Chiesa dei Servi complex, is named after Pellegrino Artusi, the Forlimpopoli born writer and gastronome, widely considered the father of Italian cooking. The multimedia museum invites visitors to create their own menu according to Artusian principals. The library houses a number of important collections, including that left by Artusi to his heirs. The Events Area is used as venue for conferences and seminars but also cinematographic, theatrical and musical performances, all linked to food and food culture.
Reflecting Artusi's territory-inspired gastronomic philosophy, Casa Artusi's restaurant serves authentic home cooking, with particular emphasis being given to the traditional fresh pasta dishes of the Emilia Romagna region.
The cooking school is the main focus of the center's activities, designed for all those keen to don an apron and try out their cooking skills, whether they be amateur cooks eager to increase their culinary competence, or professional chefs needing to perfect their technique in a certain area. Even children can join in the fun, attending one of the taste education courses created especially for kids. Pellegrino was adamant that Your best teacher is practice and at Casa Artusi's cooking school the hands-on practical lessons are conducted in a training hall with 20 fully equipped work stations.
The calender of courses is constantly renewed: from the sfoglia come una volta course (indispensable for those wanting to learn how to create pasta just like your Italian granny used to make it), to Cucina di Marineria, which focuses on the choice and preparation of fish from the Adriatic sea. A particularly well-timed new entry for 2009 is the Conti corti, tagliatelle lunghe course, which we might translate as Short purse, long pasta. In this case, lessons start first thing in the morning, with a trip to the local market where students shopping skills are put immediately to the test. The afternoon is spent preparing a full scale evening meal, to be enjoyed by all the participants.
Casa Artusi
via Costa, 27/31
47034 Forlimpopoli (FC)
Tel +39 0543 743138
www.casartusi.it