San Domenico Palace Hotel
(5 Star Hotels)
Taormina
This hotel is no longer part of the
ItalyTraveller.com collection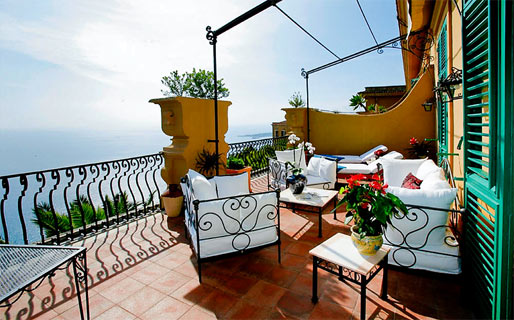 San Domenico Palace Hotel
Piazza San Domenico, 5

-

98039

Taormina

(Messina)
Tel.

+39 0942 613111
Fax

+39 0942 625506
Lasting luxury in Taormina
Three reasons why you'll love it here

A 15th century monastery transformed into 5 star hotel
The views of the sea, the Greek theater and Mount Etna
Massimo Mantarro's superlative gourmet Sicilian cuisine
Built on the site of a finely restored 15th century Dominican monastery, San Domenico Palace is one of the most beautiful 5 star hotels in the historic seaside city of Taormina.
A century of hospitality
It's one of the oldest too: the hotel's jealously-guarded guest book dates back to 1905. Over the years, famous personalities from the world of politics, culture, science, art, cinema and entertainment, have all added their signatures to the book.
With amazing views of Taormina's Greek theater, the hotel's Italian gardens and the sea, San Domenico Palace's Garden Room Suite, is, arguably, the most sought-after room in the house.
Gourmet heaven in Taormina
Food lovers will be spoilt for choice in this much-loved Sicilian 5 star hotel, which has four elegant eateries serving the finest Sicilian, Italian and International cuisine.
The 2 Michelin star "Principe Cerami", named after the Sicilian aristocrat who transformed the monastery into a hotel back in 1866, is one of Sicily's finest restaurants. This is where the award-winning chef, Massimo Mantarro, performs his culinary magic night after night

The choice of venues for afternoon and after-dinner drinks is just as impressive. You can hang out in the casual-chic Pool Bar; knock-back a champagne cocktail at the Cloister Lounge Bar by Ferrari; or relax with a glass of fine wine in the Grand Bar Oratorio dei Frati.
Pampering in the Palace
It's just too easy to relax at Domenico Palace: on the sun drenched terrace of your room, in the hotel's gorgeous sea view gardens, or by the panoramic swimming pool.
For some professional pampering, pop into San Domenico Palace's Beauty Corner, which offers a vast range of massages and personalized face and body treatments.
San Domenico Palace Hotel's unique Congress Center has been installed in the church of the ancient monastery and still retains the original exterior