← Return to Masseria della Volpe
Insider guides
The region all around Noto is a land steeped in history, culture, scenic beauty and bubbling vitality. which offers itineraries and discoveries.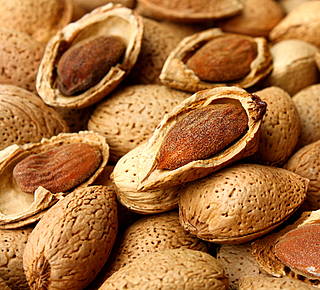 Discovering Avola's almonds
In the territory of Siracusa, in Avola, one of the best kinds of almonds of Italy is produced. It is top quality and nutritious and is protected by a consortium. There are 3 types: the "pizzuta", the "fascionello" and the "romana".
Activities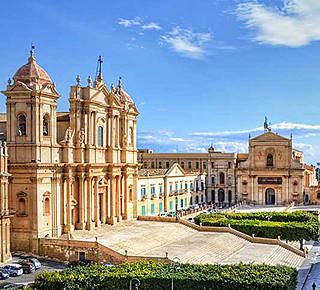 Baroque of Val di Noto
Val di Noto is made of different art towns, some of them are listed in the UNESCO heritage: Noto, Scicli, Ragusa, Modica, Palazzolo, Caltagirone, Militello Val di Catania and Catania, which have been rebuilt after the earthquake of 1693.
Places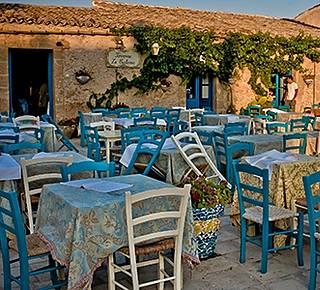 Montalbano places
From Andrea Camilleri's novels, a tour around the shooting and literary locations of Commissario Montalbano: Ragusa, Scicli, Modica, Comiso, Vittoria, Ispica, Santa Croce and many private residences, between imaginary places and reality.
Places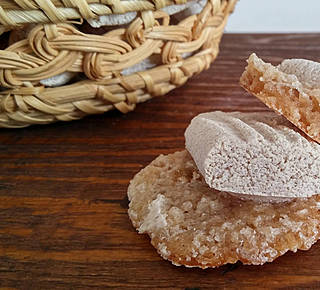 Sicilian Day of the Dead
On November the 2nd, Sicily celebrates the Festival of the dead, when children receive gifts from their dead relatives. In the Eastern part of the island, traditional sweets are "the deads' bones": white dough sweets on a crunchy layer.
Activities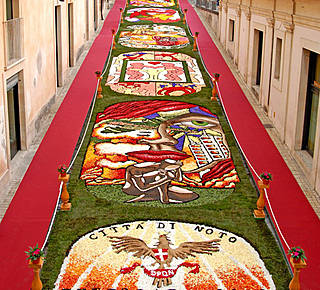 "Infiorata": Triumph of flowers in Noto
Every year, on the 3rd Sunday of May pictures of flowers are made by local artists on Via Corrado Nicolaci, over a space of 2000 sq.mt. A wonderful show of flowers, patterns and colors in the baroque frame.
Places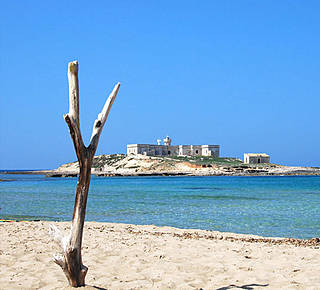 Sea of Val di Noto
A whole area of beaches: crystal clear water, at Calamosche and Vendicari, or San Lorenzo and the Cittadella, where every year sea turtles come to lay their eggs, Portopalo and Isola delle Correnti, where the 2 seas meet each other.
Places