Villa San Giacomo
(Luxury Villas) Positano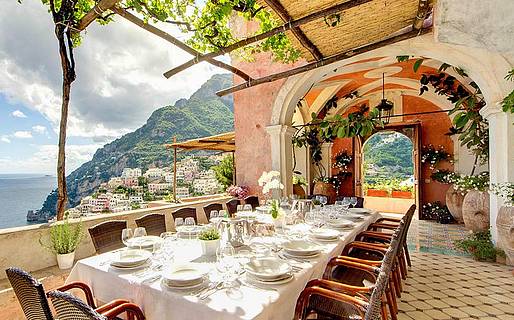 Luxury with a view
Three reasons why you'll love it here

The unforgettable views of the Amalfi Coast from each and every terrace
Days to remember, nights you'll never forget - in an 18th century villa
Tie the knot in Positano: make your dream wedding come true
If you're looking for luxury with a view in Positano, you'll love Villa San Giacomo: a finely restored 18th century residence on the hill overlooking the town's Spiaggia Grande beach, the islets of Li Galli and Mediterranean sea....
Beautiful inside and out
The spectacular views of Italy's Amalfi Coast are not the only reason guests fall helplessly in love with this exclusive holiday home.
Walk inside the villa and you'll be greeted by an amazing display of frescoes, antiques and ceramics, all of which testify to the building's aristocratic past.
Luxury on tap, on the terrace
Drenched in sunshine, with a pretty pergola and typical Mediterranean columns, Villa San Giacomo's terrace is the heart of life in this unique period residence.
This is where a delicious al fresco breakfast is served each morning and where, in the evening, guests gather for an elegant sunset aperitif or a leisurely after-dinner drink or Limoncello.
Ways to while away the hottest hours of the day? Relax in the garden, in the shade of the sweetly scented orange and lemon trees...
The sea in your room (and Wi-Fi too!)
Book a holiday at Villa San Giacomo and get ready to sleep in sumptuous bedrooms, with ornately frescoed ceilings, antique furniture, centuries-old paintings and beautiful bathrooms tiled in the brightly colored majolica, typical of the Amalfi Coast.
Distributed on two of the villa's four floors, each and every one of Villa San Giacomo's eight bedrooms is equipped with a full range of 5 star amenities and opens out onto a sweeping sea-view terrace.
Marriages made in heaven...
...start with a wedding made in Positano. If you're looking for a fairytale location for your glamorous Amalfi Coast wedding, you're going to love Villa San Giacomo.
Romantic civil marriage services, attended by as many as 200 guests, are performed on the villa's panoramic terrace. For all the rest, from the bridal make-up and flowers to the catering and photos, there's Villa Giacomo's professional wedding planner.
A personal chef or butler, available for an evening or the duration of your stay, a massage therapist, a boat trip or private transfer: whatever you want or need, Villa San Giacomo's expert team will make sure you get it
Villa San Giacomo amenities
Rooms
Free Wi-fi
Air Conditioning
Minibar
Safety deposit box
Hair dryer
Room with private terrace
Various
Reception 24h
Car park
Laundry
Other facilities
Private chef
Welcome dinner
Fully equipped kitchen
Breakfast
Concierge 24/7
Linen change every day
Satellite TV 60" in the living room
Cleaning staff
Wireless printer
On request
Professional Chef
Private transfers and excursions
Wine tastings
Luxury car rental
Gourmet & wine tours
Boat trips