Canto alla Moraia
(Luxury Villas) Castiglion Fibocchi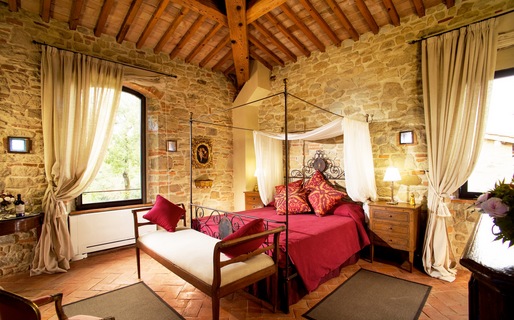 Art and wine in the Tuscan countryside
Three reasons why you'll love it here

Admire the countryside, backdrop to Leonardo da Vinci's Mona Lisa
Relax in the joyful silence of the Tuscan countryside
Visit the winery and sample the house reds
As soon as you arrive at Tenuta di Canto alla Moraia, you find yourself transported by the surrounding landscape and the architectural space itself. Neither luxury nor opulence, the feeling is more the fine art of Tuscan living, that delicate balance and perfect union of nature and man which is so well expressed in this corner of Tuscany.
The Tuscan Landscape which Enraptured Leonardo
Ponte Buriano, the bridge which Leonardo da Vinci immortalized in the background of the Mona Lisa, is just a few minutes from the estate, which is located in the short distance between the vibrant Renaissance centers of Florence and Arezzo. Still today, these two cities are emblematic of the historic yet always fresh delights of Chianti.
Living History
The Canto alla Moraia estate includes five bedrooms with private bathrooms in the main building and three apartments with kitchens in the former hay barns. Each accommodation is a window into the past, with original exposed stone walls, Italian travertine marble bathrooms, and warm chestnut wood beams. To complement the classic Tuscan interiors, there are carefully selected pieces of contemporary design, including the Archizoom chair which has been shown at MOMA.
Wine, Oil, and Grappa
The estate's products are all strictly organic, including extra virgin olive oil, milled and pressed the day of picking and with an extremely low acidity; red wines, complex and bold, made with organically grown grapes; and grappa, perfectly clear, intensely aromatic, and with a balanced yet rich flavor due to its double distillation.
These are the flavors of Tuscany, meant to be enjoyed with the languid pace of the Tuscan countryside itself...
Canto alla Moraia amenities
Outdoor facilities
Swimming pool
Garden
Park
Rooms
Rooms for families
Free Wi-fi
Air Conditioning
Minibar
Safety deposit box
Hair dryer
Kitchenette
Room with fireplace
Food and drink
Cooking courses
Cultivation of organic produce
Own wine production
Own oil production
Various